Camping is how some of the best holiday memories are made. If you have a spot of wanderlust, our list of Europe's best camping destinations is just what you need. We'll show you how to pitch a tent in rugged Scandinavia, ride the waves in Portugal or get close to Dracula in rural Romania. Whether you're a back-to-basics traveller or you prefer "glamping", we've got you covered.
Mazury, Poland
For an out-of-the-way experience free of other travellers, head to Mazury, known as the "green lung of Poland". This lush, untouched region is covered in lakes and features thousands of tiny, picturesque towns – and plenty of places to set up camp.
Head to Tumiany village and enjoy a stay at the Tumiany Resort Centre, a tranquil spot for nature lovers, mushroom-pickers and fishing enthusiasts. Take the time to wander through the forests, keeping an eye out for local wildlife, and be sure to try your hand at kayaking or sailing. Take a bus to a larger city such as Giżycko or Ełk for access to a larger marina and additional watersports options.
Fannefjorden, Norway
Enjoy some "friluftsliv" or "open air life" and pitch a tent at Kviltorp Camping in Fennefjorden near Molde on Norway's west coast. With electricity, Wi-Fi, bathrooms and a kiosk, it's got all the essentials covered all year round.
Upgrade your visit with a quaint shoreside cabin that delivers sublime views of the mountain range and easy access to the water. Explore the nearby Bud fishing village, the twisting Trollstigen "Trolls' Path" mountain road and visit the Romsdal Museum, a folk history wonder. You can also head out to Veoya Island, hike the Hjertoya Nature Trail or hop on a bike and cycle through the verdant hills.
Vila Nova de Milfontes, Portugal
Master the waves with a stay in Vila Nova de Milfontes on Portugal's surf-loving south-west coast. With its Mediterranean climate and warm waters, it's the ideal getaway for aquatic aficionados. Untouched beaches with great surf make hitting the water a zen-like experience, while back on dry land fruit gardens, vineyards and tiny traditional villages deliver a charmingly scenic experience.
Take lessons at Altentejo Surf Camp, kayak up the Mira River, relax on the Praia da Franquia or cycle to Almograve, one of the top beaches in the region. Walking tourism is expressly encouraged by the government, so hike one of the many well-signed walking trails. Whether you prefer to spend your nights in a mobile home, a tent or a tepee, there are plenty of campsites to choose from in the area.
Bavaria, Germany
Near Füssen in the picturesque Bavarian Alps, the lakeside Hopfensee campsite offers a dog-friendly, active experience. Overlooking one of the warmest lakes, Hopfensee, in the Alpine foothills and just a stone's throw from the fairytale Neuschwanstein Castle, it's perfectly positioned for recreation and sightseeing.
Spend your days hiking, cycling or swimming, then relax in the on-site saunas and steam-baths. If you have time, check out opulent Linderhof Palace and the gothic Hohes Schloss, which houses a museum of local art. Want something entirely different? Head north to Berlin and try indoor camping at Hüttenpalast. Housed in an old factory, it's a charming "campsite" of colourful caravans and cabins in one of the city's most artsy districts.
Blåvand, Denmark
With its forests, coasts and largely flat terrain, Denmark is made for camping. While you can't just pitch a tent anywhere you please, there are plenty of spots to stake your claim. Try Hvidbjerg Strand Feriepark, a high-end option close to a 40km-long white sand beach that hugs the North Sea.
You can camp under the stars or go "glamping" (glamorous camping) in one of the private cottages on site. The water is calm and shallow, while the pristine sand is ideal for beachcombing for local amber. Plus with a water park, wellness centre and children's activities, it's a blissful option for families.
Versailles, France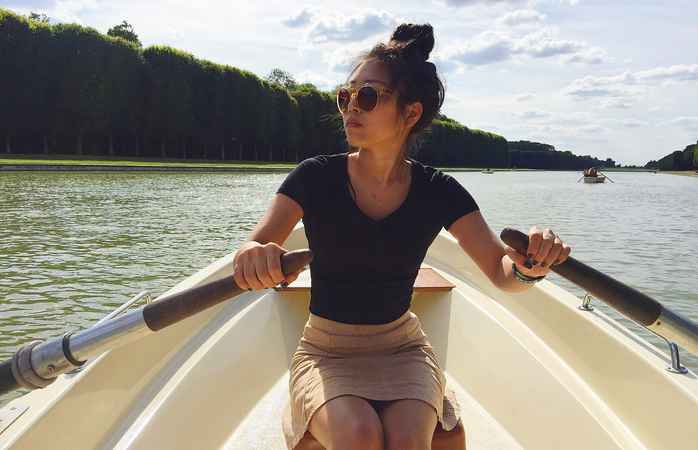 A rugged grouping of pitches among the trees of the Versailles forest, Huttopia Versailles campsite delivers a back-to-nature experience with essential creature comforts. Rent a hut, tent or caravan, all of which are served by basic amenities. The Versailles Palace with its beautiful gardens is just a stone's throw away, and you can make a day trip to Paris on the RER train.
Other must-see sites include the Petit Trianon, Marie Antoinette's former estate; the Chateau de Malmaison, once home to Napoleon; and the National Archaeological Museum, housed in a medieval castle. Museums, galleries and chapels abound, while green spaces such as the Parc de Saint-Cloud and Arboretum de Chevreloup deliver a well-groomed touch of nature.
Kälsviken, Sweden
Sweden's "allemansrätten", or the right of public access, means you can camp just about anywhere, so long as it's not in someone's backyard. Take the road less travelled and head to the cove of Kälsviken in Skuleskogen National Park on the rugged Swedish High Coast. A back-to-basics campsite, it offers water, bathrooms and fire pits, but the rest is up to you.
Tranquil and quiet, it's a perfect pick for those warm summer days. Explore the local surrounds for Bronze Age boulder mounds, old growth forests and incredible geological phenomena. Book a kayaking expedition on the choppy Baltic Sea for a different perspective on this stunning area.
Bran, Romania
Combine history with mythology and set up camp in Romania's Bran region. Famously home to the imposing 14th-century "Dracula's" castle, Bran also offers plenty of other spooky landmarks to check out.
Explore the tiny Bran Village Museum, the "haunted" Castelul Groazei, the black-roofed local monastery and the eerie, charred Black Church. Castles, fortifications and other Gothic sights abound, but nature also has plenty to offer. Highlights include the striking Omu peak in the Bucegi mountains, the Peștera Liliecilor cave and the Libearty Bear Sanctuary. Get immersed in it all by booking a site at Vampire Camping, a family-friendly setting with tents, caravans and cabins available.
Finnish Archipelago, Finland
Spanning the western and southern coasts of Finland, the remote Finnish Archipelago features 20,000 untouched islands. Home to a huge national park and incredible kayaking and hiking opportunities, it's studded with well-appointed, charming campsites.
Make a pilgrimage to the beautiful Bengtskär Lighthouse, the tallest in all the Nordic countries, and book a cruise to explore the incredible diversity of this natural wonder. You can also take a "survival skills" course to prime you for wild camping in this remarkable region. Literature lovers will want to explore the Pellinge islands, a source of inspiration for beloved Finnish children's author Tove Jansson.
Sardinia, Italy
Leave the "boot" behind and head offshore to the picture-perfect island of Sardinia. Accessible by a causeway road, Sant'Antioco is a tiny speck of land that remains untouched by the excesses of the more touristy areas of this island destination. On its south-western corner is Tonnara, a tiny inlet with a private beach and rocky outcrops.
Take your pick from 150 terraced pitches and enjoy sweeping views of the sparkling sea. Swimming and sunbathing are just the beginning: Sant'Antioco has a rich history spanning the Phoenicians, Romans and the French. Explore historical sites such as the Forte Su Pisu, the Villaggio Ipogeico and the incredible catacombs beneath the Basilica.
Looking for even more inspiration?