With your flights and hotel booked, the luggage is the last thing you need to take care of before heading out on that well-deserved holiday. But packing your bags doesn't have to feel like a chore, especially if you follow our expert holiday packing tips.
Limit your liquids
We all know the rules pretty much by now, and yet there's still mass confusion and hold-up when someone tries to sneak a bottle of water past airport security. Much to everybody's chagrin, pan-European baggage restrictions state that all liquids carried in hand luggage must be no more than 100 ml per item, and must fit into a one-litre transparent bag (usually available right before security). If you're carrying any larger liquids, stow them in your checked suitcase.
Bring some just-in-case medications
We're not asking you to prepare for every illness imaginable, just a small bag with the most necessary pills and medicine. After all, nobody wants to suffer a punishing headache, high-climate fever, upset stomach or all three during a holiday. It might be easy enough to pick up a domestic remedy for your ailments at home, but medicines in the country you are visiting may be limited to prescription only. The same goes for allergy meds and asthma remedies, bring them with you!
Name tags are there to help
Unless you're an international man of mystery, you shouldn't have to worry about travelling incognito. Most suitcases come with name tags fitted as standard, so be sure to fill them in just in case you – or the airline – lose your luggage!
Observe restrictions on luggage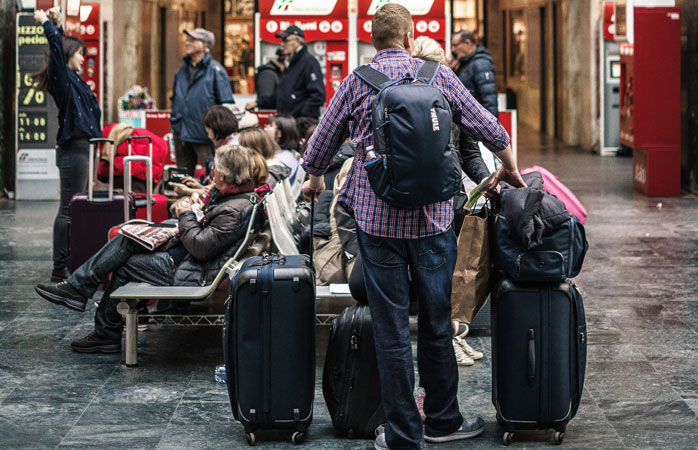 If your airline says: "23kg", then they mean 23kg! Weigh your bags before you get to the airport and make sure you are within the restrictions, otherwise you'll be forced to cough up extra cash at the airport or you'll have to re-pack and redistribute your items until your bags meet the weight restrictions.
Skip the shoes
How many pairs of shoes you should take is very much dependent on how long your holiday might be and what sort of activities you'll be doing, but we'd suggest that three pairs is a reasonable average for a 1-2 week getaway. More important than volume is versatility, so make sure you're not stuck hiking in stilettos by bringing a pair of shoes for every planned activity of your trip. Wear your most cumbersome pair on the plane and stuff your socks in the rest – and you'll save even more space.
Cosmetics – at a minimum!
Unless you plan on travelling to a desert island, it's likely that you'll be able to pick up popular shampoo or sun lotion brands in almost any corner of the world.  If you really can't live without that special face cream, try to take only as much as you'll need for your trip and nothing more. That way you can discard the empties and save extra luggage room for your trip back home.
Don't forget the adapters
If you do need them, save on the crazy airport prices by buying them ahead of your trip.
Keep on rolling
This tip is certainly up for debate, but we think that rolling your clothes really is the only way to go. Not only will it reduce those pesky wrinkles and creases in your gear, it'll save you some much needed suitcase space. Which brings us to…
Save bag space for all your holiday purchases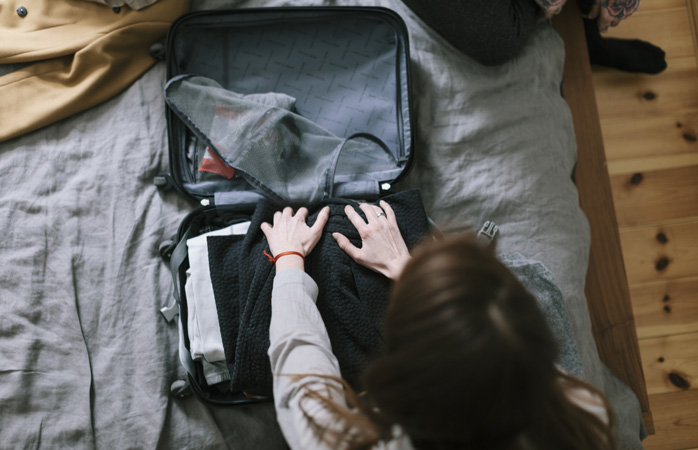 Whether it's duty free goods or holiday mementos, it's inevitable that you'll be bringing more back home with you than when you left – so make sure you have the room for it!
Be careful with any breakables
If you have to pack anything that could potentially break, such as glass or porcelain goods, wrapping them in bubble wrap or in-between clothes and putting them right in the middle of your case is the safest way to make sure they arrive in one piece. If you can, try to bring them in your carry on that way you can ensure that your luggage is handled with care (by you)!
All valuables go in hand luggage
It's rare that airlines lose luggage these days, but why take the risk? Stay safe and stow all your expensive luxuries – from your camera to your diamond engagement ring – in hand luggage.
Bring an extra set of clothes on board
If you have the extra space in your carry-on, it's always a good idea to throw in a clean set of underwear and an extra change of clothes, in case your luggage gets lost, or your flight is delayed and you have to spend the night at the airport or a nearby hotel.
Check the weather before you go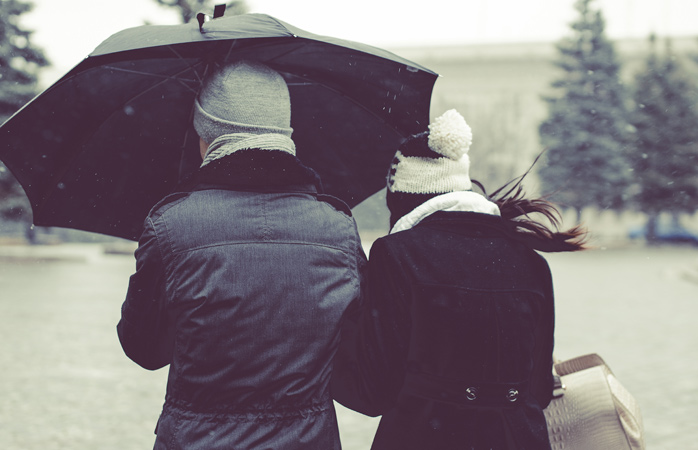 Depending on where you're going, weather forecasts are either your holiday's best friend or biggest foe. Come rain or shine, meteorologists will always give you the best idea of what weather to expect on your holiday. Check the day before you fly and pack accordingly.
Don't leave home without the essentials
This penultimate tip is a big one as, without these necessities, you won't be heading anywhere but home: check and check again that you have your wallet, a valid passport and your phone. Keep these all on hand and easily accessible because you will be be reaching for them at least once during your trip to and at the airport.
Get ready for your next holiday: