Dubai is well-known for being a city of superlatives – the biggest, the tallest, the shiniest –  you can find it all here. But what lies beneath all the glitz and the glamour? If you know where to look, there are plenty of less obvious gems to explore in the city – ones that are most definitely worthy of your attention. So keep reading, and get the lowdown on how to explore Dubai like a local.
Go back to the roots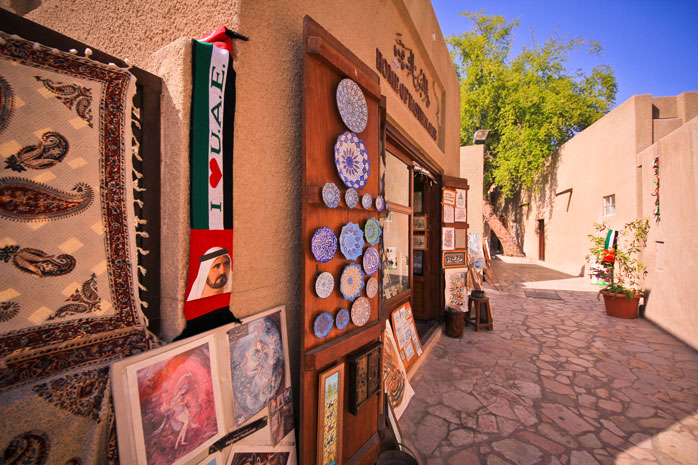 Kick-start your time in the city by spending a morning at the Sheikh Mohammed Centre for Cultural Understanding in Bur Dubai. The centre was set up to educate expatriates in the traditions and customs of the UAE (United Arab Emirates), but it's a great place for travellers to also get a better feel of local life.
You can learn about Emirati culture and Islam while enjoying a breakfast of traditional cuisine in an atmospheric wind tower house. You'll have the opportunity to ask your local host any questions you have about the local way of life and will come away knowing so much more about the UAE.
While in the historic district of Bur Dubai, it's worth checking out Al Bastakiya, an area that harks back to Dubai's humble fishing village origins. The maze of traditional wind-towered buildings is home to art galleries and cafés that are begging to be explored.
Lose yourself among the alleyways and pop into one of the many galleries along the way; we recommend The Majiis Gallery, which features a nice mix of local and international artists. To round off your time in the area, quench your thirst with a glass of mint lemonade at XVA Café.
Enjoy a snippet of daily life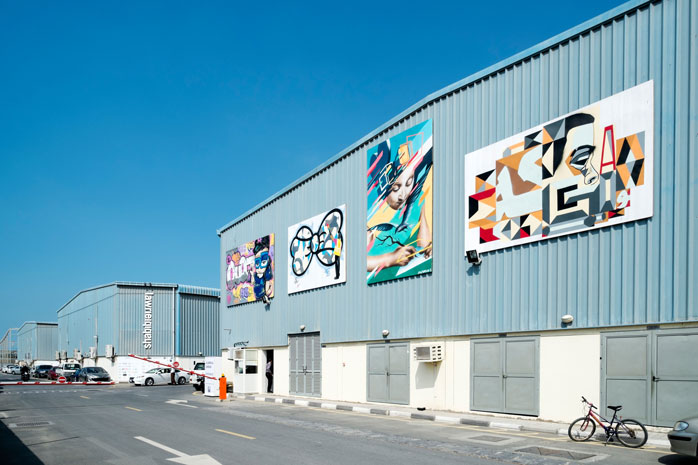 To the untrained eye, Al Quoz doesn't look like anything special. One of the city's industrial sites, it's dusty, full of generic-looking factories and warehouses, and none of it is too appealing to the eye. The city's culturally savvy dwellers know differently, though. For one, Alserkal Avenue – a collection of warehouses that house the city's coolest arts and culture venues – is located here.
Spend an afternoon looking around one of the contemporary art galleries or catch a live band. They also offer free-guided tours of the galleries on a Saturday, and it's worth keeping an eye on their website for up-to-date information on what's on every month.
If you're looking for a pastime that's loved by locals and expats alike, an evening of smoking shisha (flavoured tobacco) is a must. Even if you don't partake, it's a nice way of enjoying a little snippet of daily life in Dubai, particularly during the cooler months when it seems like the entire city is outside every evening.
Tucked away in the centre of the Manzil Downtown Hotel, you'll find the restaurant The Courtyard. It has all the right ingredients for the perfect night of hubbly bubbly – the shisha is smooth, the setting is gorgeous and the food is good.
Skip the malls – go to the markets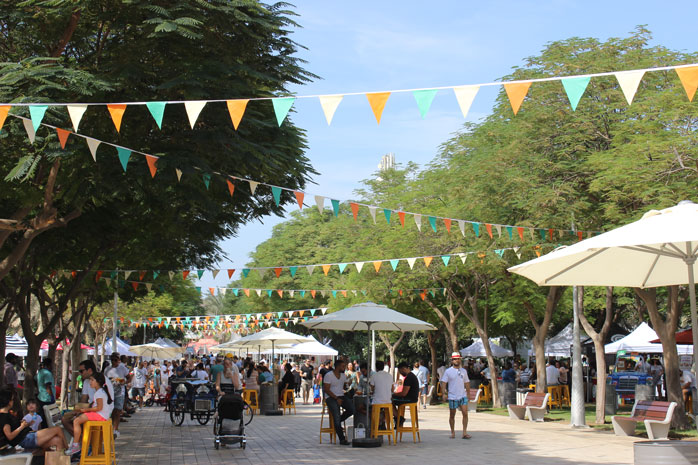 Dubai is known for its mega-malls; the Dubai Mall alone is over 13 million square feet (roughly 1.2 million square metres) in size (that's about 50 football fields in layman's terms) and attracts visitors by the hordes. If you're looking for something a little bit different, though, there are still plenty of options if you know where to look.
Outdoor markets are starting to become very popular in Dubai, and the Ripe Market at Zabeel Park is a favourite. Find everything from handmade jewellery to clothes, pop-up food outlets and live music. It's always a great way to spend a Friday afternoon during the cooler months. The scheduling can vary, so be sure to check their website for updated details.
If markets aren't your thing, you can check out The Collective in Al Quoz, a newly-opened boutique shopping area that houses up-and-coming designers and shops, and offers a welcome respite away from the city's many malls. Find quirky souvenirs or gifts for your loved ones back home and then pop into Brew Café for a flat white.
Sample the local flavours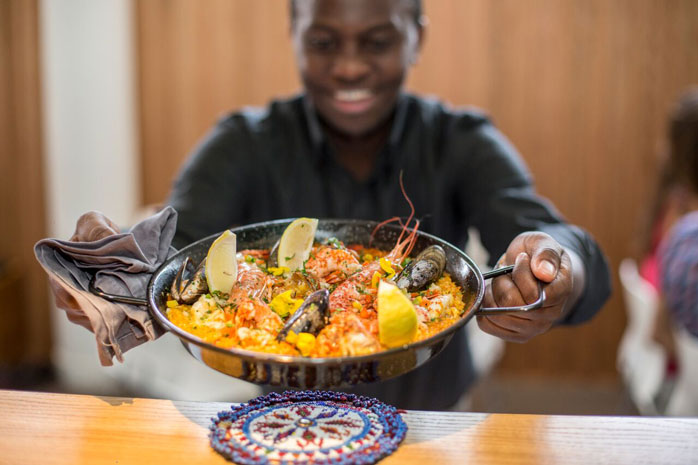 Dubai is a food lover's dream come true, and you can find everything from fine dining restaurants that will set you back a month's rent, to unassuming roadside cafeterias serving up budget fare.
Plan your visit to the city to include a Friday (a holiday in Arab countries), so that you can enjoy a favourite expat pastime – brunch. Dubai has taken Friday brunch and moulded it into its own creation – think free-flowing bubbly, never-ending buffets, and a sprinkle of entertainment on the top.
Skip the more OTT affairs and head to Cocktail Kitchen in Jumeirah Lake Towers for their Vinyl Brunch, where you can feast on a selection of à la carte starters and mains (we recommend the goat's cheese risotto) and while the hours away drinking Vermouth spritz. You're invited to bring along your vinyl records – should you have any knocking around in your suitcase – and make use of their gramophone.
If you have one too many cocktails and feel yourself in need of anything carb heavy and laden with cheese the next day, then you need to try the famous cheese manakish (Lebanese-style doughy treat) from Al Reef Lebanese Bakery in Jumeirah 3. Locals and expats alike have been flocking here for this very delicacy for years. The best part? At around $3 for the large option, it's cheap by Dubai standards.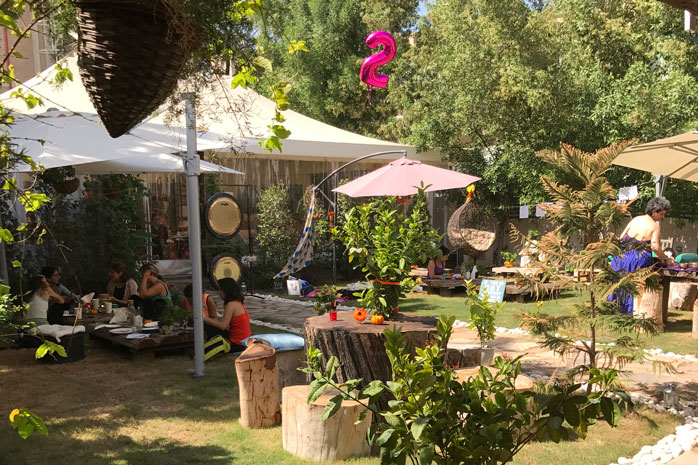 A seafood haven, Bu Qtair also has to be added to your culinary to-do list. Starting out as a portakabin in the shadow of the Burj Al Arab in Umm Suqeim, this Dubai favourite may have moved across the road to a purpose-built restaurant now, but the great food and charm (i.e. long queues and a bizarre ordering system) remain. If you do have the patience to wait and order your food, however, you'll be rewarded with the catch of the day along with a fish curry and parathas. Delicious.
Looking for a greener choice? Then swing by One Café by Life 'n One just off Jumeirah Beach Road in Jumeirah. The raw food scene, steadily beginning to gather momentum in Dubai, took it's first steps right here. The 'secret' garden setting is a welcome addition to the city's café scene; when you first walk inside, you'll feel like you've been transported to a hippie-style venue in Thailand.
This place is great for a healthy lunch with a bohemian vibe – we recommend the raw zucchini pasta with Thai spicy sauce. The wellness centre on site offers yoga classes and meditation workshops. What's not to like?
1001 Arabian nights
There is no shortage of fantastic hotels to stay in while in Dubai, but if you'd like to avoid the obvious, gold-plated choices, then book yourself into XVA Art Hotel. Found in the heart of Al Fahidi, this arty property is one of the city's only boutique hotels and it brims with character. Each of the rooms are inspired by an aspect of local Emirati culture.
Want more choice? Compare hotels in Dubai here
Brought an extra-large suitcase for shopping? Find out how to debunk duty free. Also, make sure you're up to scratch on when and how to tip on your trips