Accra Holiday Rentals
Find the best deals on 583 holiday rentals in Accra
---
Top rentals in Accra
Find the perfect Accra holiday rental for your needs
Accra Royal Castle Apartments & Suites
View all deals
The Avery Apartments
View all deals
Accra Luxury Apartments
View all deals
Okumani Apartments
View all deals
Cozy Apartments Ghana
View all deals
The Villa Olive
View all deals
Embassy Gardens Premier Suites-Cantonment
View all deals
One Bedroom Serviced Apartment in City Center
View all deals
Gem Hospitalities
View all deals
Adinkra Lodge
View all deals
Nego Lodge
View all deals
Royal German Apartments
View all deals
Mahogany Lodge & Annex
View all deals
Travellers Palm Court
View all deals
Accra Luxury Apartments Cantonments
View all deals
Park Royale
View all deals
Beach Drive Haven
View all deals
Spacious Accra Apartment
View all deals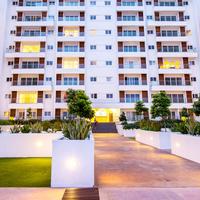 Prime Luxurious Suite Apartment
View all deals
Jovix Lodge, Is The Best Place To Be Currently. Come Relax, Affordable Comfort
View all deals
Charming Labadi Beach Apartment
View all deals
Fantastic Two Bedroom Apartment in Accra City Center
View all deals
Hedzorle Villa (cosy Place)
View all deals
Katrina House - Welcome
View all deals
Osu Ringway Apartment - The Denya - Hidden Gem - 7th Floor Studio
View all deals
Accra Luxury Apartments @ The Gardens
View all deals
Concord Apartments
View all deals
3 Bed Luxury Apartment
View all deals
Becky's Bed & Breakfast
View all deals
Fully Furnished Private Suite 1
View all deals
Exquisite 3 bedroom duplex
View all deals
---
When to book a holiday apartment in Accra
Check out the tips below to find the best deal on a Accra holiday rental property
| | |
| --- | --- |
| Low season | February |
| High season | December |
cheapest month to stay
74%
expected price decrease
most expensive time to stay
70%
expected price increase
| | |
| --- | --- |
| Highest day of week | Friday |
| Cheapest day of week | Monday |
avg. price over the last two weeks
Average price (weeknight)
£84
avg. price over the last two weeks
avg. price over the last two weeks
Average price (weekend night)
£88
avg. price over the last two weeks
---
Cheapest holiday rentals in Accra
Our lowest-priced holiday apartments and property rentals for a cheaper way to stay in Accra
Accra Royal Castle Apartments & Suites
---
Accra holiday apartments & rental properties FAQ
How long do people typically book holiday apartments for in Accra?
6 nights is the typical length of a Accra holiday rental booking.
How much does a holiday rental apartment in Accra cost?
On average, holiday apartments in Accra typically cost around £84 per night. Search to see the apartments that we have in Accra and the prices for your selected dates.
When is the best time to book a holiday rental in Accra?
Holiday apartments in Accra are often cheapest in February - rental prices can be around 74% lower than the average during this period.
---
momondo's favourite rental properties
Learn more about these user-preferred holiday homes in Accra, Ghana
---
Get the latest Accra flight insights
Find the best time to travel, cheapest fares and most popular airlines.
Find flights to Accra
Start planning your trip today
Get an overview of the top hotels in the most popular neighbourhoods of Accra
Find hotels in Accra
Top car hire choices in Accra
Experience Accra from behind the wheel! Learn more about the best car hire deals
Find cars in Accra