---
Popular cities in Olomouc Region
Below are the average prices for hotels in popular Olomouc Region cities
| | | | |
| --- | --- | --- | --- |
| CHEAPEST CITY IN OLOMOUC REGION | Olomouc | 0% cheaper | Hotels in Olomouc are the cheapest in Olomouc Region at just £45 per night on average. |
| MOST EXPENSIVE CITY IN OLOMOUC REGION | Olomouc | 0% more expensive | Olomouc has the highest priced hotels in Olomouc Region with rooms averaging £45 per night. |
| MOST POPULAR CITY IN OLOMOUC REGION | Olomouc | 0% more users visited | More momondo users search for hotels in Olomouc than any other city in Olomouc Region |
---
Top Hotels in Olomouc Region
Find your perfect Olomouc Region hotel in the perfect location
Chata Eduard
View all deals
Pension u Jakuba
View all deals
Hotel Pod Jedlovým vrchem
View all deals
Ubytovna Marie
View all deals
Best Hotel Garni
View all deals
Penzion U Chmelu
View all deals
Long Story Short Hostel & Café
View all deals
Guest House Na Hristi
View all deals
Restaurace a Penzion U Klasku
View all deals
Penzion U Lukacu Bela pod Pradedem
View all deals
Restaurace a Penzion Bludovecek
View all deals
Penzion Dionysos Pod Kartouzkou
View all deals
Hotylek U Pekina
View all deals
Penzion u Blahu Dolany
View all deals
Hotel Krizovy vrch
View all deals
Minipenzion Na Vyhlídce
View all deals
Penzion U Modreho Zvonku
View all deals
Penzion u Coufalu
View all deals
Penzion Certovy Kameny
View all deals
Penzion Restaurace u Klary
View all deals
Hotel Solitaire
View all deals
Penzion Na Kiosku
View all deals
Penzion Ostravanka
View all deals
Hotel U Domu Sv. Vaclava
View all deals
Penzion Pekarov
View all deals
Kozi Farma U Nydrlu
View all deals
Penzion Na Vrsku
View all deals
Penzion Richard
View all deals
Castelli Pod Krizovym Vrchem
View all deals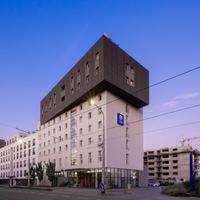 Comfort Hotel Olomouc Centre
View all deals
Hotelovy Dum
View all deals
Hotel Cervenohorske Sedlo
View all deals
Hotel Gol Garni
View all deals
Akademie Hotel
View all deals
Thamm Hotel Praded
View all deals
Hotel Milotel
View all deals
Hesperia Hotel Olomouc
View all deals
Penzion Tucnak
View all deals
---
Popular hotels in Olomouc Region
Book a room in one of momondo's favourite hotels in these popular Olomouc Region cities
---
Stay in these Olomouc Region cities
Looking for a Olomouc Region getaway? Check out the hotel deals in these cities
Check these FAQs for important travel tips while planning your visit to Olomouc Region
What is considered a good deal for a hotel in Olomouc Region?

A good deal for a hotel in Olomouc Region is typically any price under £38, which is the average nightly rate in Olomouc Region. This rate will typically be harder to find in Olomouc, where hotels prices are generally higher. Olomouc has some of the lowest hotel prices of any Olomouc Region destination and good deals may be easier to find there.

What are the best hotels in Olomouc Region?

Miss Sophie's Olomouc, located in Olomouc, is the top-rated hotel in Olomouc Region with a rating of 9.3. The next best rating is a 8.9 which was given to 4 Smart Hotel by momondo users. The third-highest rated hotel is Clarion Congress Hotel Olomouc, which was rated a 8.7 by momondo users familiar with the hotel.
---
---
Consider staying elsewhere in Czech Republic
If you need more inspiration for your trip, take a look at the most popular regions in Czech Republic