Are there hotels available near Pendragon Theatre?
If you're looking for a hotel in Saranac Lake near Pendragon Theatre then you are in luck. momondo recommends 12 hotels near Pendragon Theatre and on average, hotels in the area cost £73/night. This price may vary based on season. Hotels near Pendragon Theatre are typically 51% less expensive than the average hotel in Saranac Lake, which is £151.
Hotels near Pendragon Theatre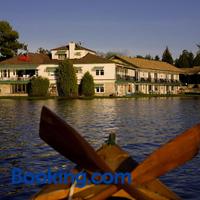 Gauthier's Saranac Lake Inn
Hotel Saranac, Curio Collection by Hilton
Best Western Saranac Lake
Wooded Hilltop Retreat in historic Saranac Lake
Luxury Adk Apartment, Saranac Lake
Romantic Adirondack Cabin with Gorgeous Lake and Mountain Views
Couples' Adk Retreat - In Town And On The Lake!
Betsy's Wildlife Retreat - Pet's Welcome