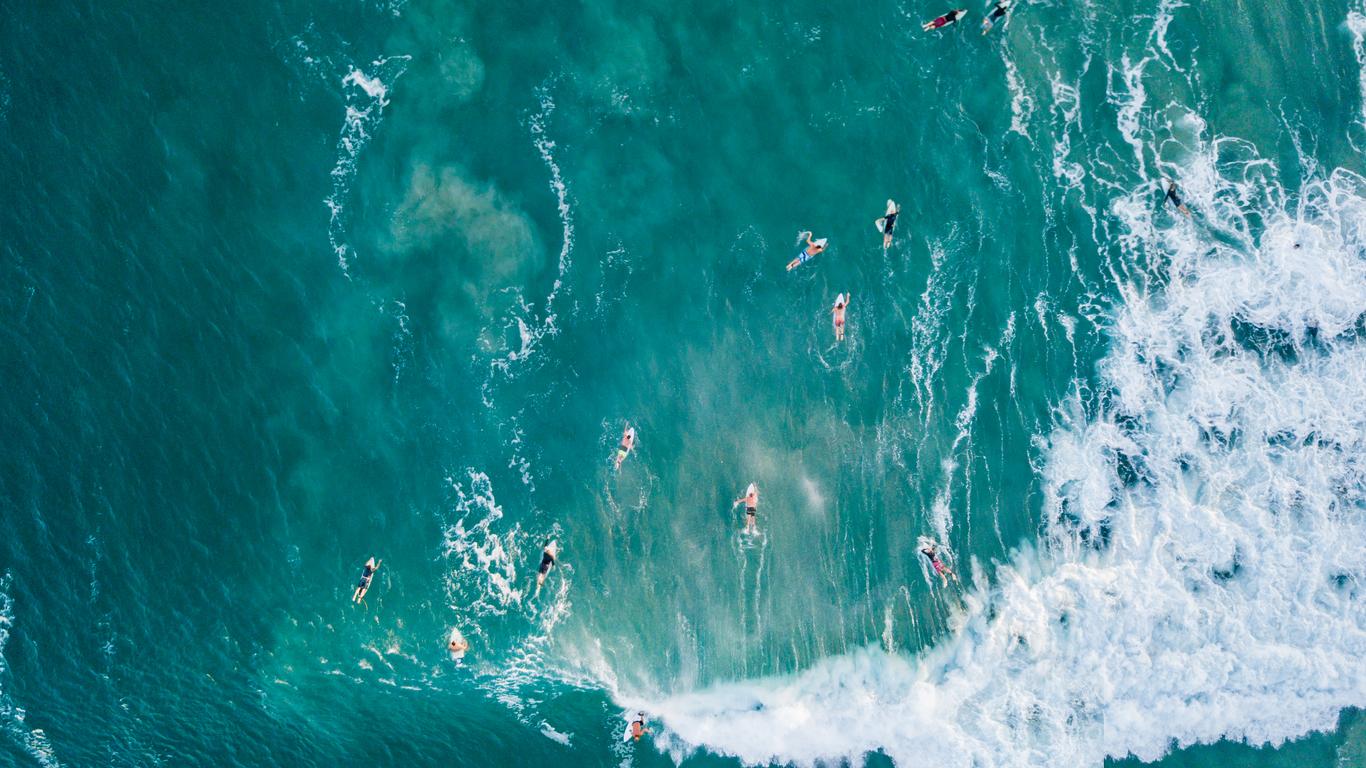 Summary info about Queensland flight prices, duration and airlines
£484
£640
22h 00m
3 airlines
---
Explore insights for your Queensland flight to craft the best travel plan
How long is the flight from United Kingdom to Queensland?
Flight times from United Kingdom to Queensland vary, but if you're flying out of London Heathrow and flying into Brisbane (one of the most popular routes), then the duration is 23h 30m on average. Another popular route from United Kingdom to Queensland is flying from Manchester to Brisbane, which will take roughly 24h 10m. Keep in mind that layovers or delays could extend your travel time.
Which airlines fly to Queensland?
There are 26 airlines that fly to Queensland on a routine basis, but Emirates, British Airways and Qantas Airways happen to be the most popular among our users. In the past year, 42% of those who searched for flights to Queensland looked to travel with Emirates, making this airline the top choice among momondo travellers.
---
Click on the cities below to find out when it's cheapest to fly to Queensland from United Kingdom
---
Get up-to-date answers for some of the most frequently asked questions regarding flying to Queensland
What is the cheapest flight I can find to Queensland?

For prices as low as £39/pp, you can find flights to Queensland depending on where you are departing from. On average, flights to Queensland cost £235/pp.
What is the best airport to fly into to visit Brisbane?

Brisbane is about 84% more popular to visit than any other city in Queensland, according to momondo users. When visiting Brisbane, it is recommended to fly into Brisbane Airport, where you can typically get the cheapest prices and the most convenient travel options into the city.
I plan on visiting Noosa Beach. Which airport is the quickest drive?

The closest airport to Noosa Beach is Brisbane Airport, and would make for the quickest drive. For those interested in a secondary airport to fly into, consider looking at flights heading to Maroochydore Airport.
What are the most popular landmarks in Queensland?

When visiting Queensland, the majority of people tend to find Noosa Beach, Kirra Beach and Brisbane Convention and Exhibition Centre to be the most notable landmarks in the area.
What is the weather like in Queensland?

The temperatures in Queensland range from 15 °C to 25 °C depending on the time of year. The warmest month in Queensland is January, and the coldest month in Queensland is July. Those looking for a drier month during their visit should travel during the months of September, August, or July, when rain is least likely compared to the rest of the year.
When did momondo last update prices for flights to Queensland?

Prices for flights to Queensland are updated daily.
How many operators does momondo search for flights to Queensland?

There are 37 operators available for flights to Queensland as of December 2023.
How old do you have to be to fly to Queensland?

The minimum age a child must be to fly alone is five but airlines that offer an unaccompanied minor (UNMR) service will have their own age restrictions, including rules around flight length, timings, and stopovers. We always recommend checking with the individual airline you are booking with to travel to Queensland.
What documentation or ID do you need to fly to Queensland?

The required travel and health documents for your Queensland trip may vary depending on your itinerary and personal circumstances. As a general rule, you should carry multiple documents, including a national ID card or driver's license and a passport valid for six months after your intended arrival at Queensland. We recommend that you seek guidance from your airline or a reliable third party such as IATA.
---
Looking to visit Queensland? Check out these cities and spend time seeing some of the most popular sights in Queensland.
---
Find flights to these popular cities in Queensland from your nearest airport.
---
Explore alternative premium cabin options for your flight to Queensland
---
These routes have the cheapest flights to Queensland found by momondo users in United Kingdom
| Departing | Destination | Best Time | Best Price |
| --- | --- | --- | --- |
| London | Brisbane | 23h 30m | £684 |
| London | Coolangatta | 28h 10m | £792 |
| Glasgow | Brisbane | 29h 35m | £815 |
| London | Cairns | 25h 20m | £896 |
| Manchester | Brisbane | 23h 30m | £995 |
| Aberdeen | Brisbane | 29h 40m | £1,054 |
| Manchester | Coolangatta | 31h 20m | £1,058 |
| Birmingham | Brisbane | 23h 50m | £1,102 |
| Edinburgh | Brisbane | 26h 50m | £1,124 |
| Southampton | Brisbane | 34h 50m | £1,170 |
| Manchester | Cairns | 20h 20m | £1,170 |
| Newcastle upon Tyne | Brisbane | 25h 40m | £1,171 |
| London | Maroochydore | 28h 30m | £1,192 |
| Liverpool | Brisbane | 32h 05m | £1,204 |
| Edinburgh | Cairns | 29h 55m | £1,224 |
| Bristol | Brisbane | 27h 30m | £1,250 |
---
Learn about all of the flight booking features offered by momondo for free.
How do I get Price Alerts for flights to Queensland?

Confirm your travel details to search for the latest offers. While browsing offers there will be the option to toggle "Price Alerts". You'll then receive updates when prices for the flight route increase or decrease.

How can I save money on flights to Queensland with momondo?

With "Price Forecast", learn how soon you should book your flight in advance. Down to the day of week and time of day, our information can inform you on the ideal time to book to save on your travel. Our "Price Calendar" shows you at a quick glance when to book your travel for lower rates. By setting "Price Alerts" you can monitor changes in price and target the ideal time to book. Search for your trip destination by budget amount via our "Explore" feature. Whether you're looking for ideas for your next travel adventure or cost-cutting tips, our "Discover" content is a great place to start.

How does momondo find its flight prices?

We show prices from over 700+ competitors with a single click. With options from airlines and OTAs from across our 30 international markets, we are able to show you a diverse range of deals to create your adventure.
---
Why should I use momondo to find a flight deal to Queensland?

momondo compares prices from hundreds of airlines and agents so you can find and book the best deal on flights to Queensland. Millions of users trust and use momondo every year so you are in good company.
Can I find flights to Queensland with flexible booking policies on momondo?

Flights to Queensland with flexible booking policies can be found by using the search form above and then selecting our dedicated flexible booking filter, which will highlight only the flights where this policy is applied.
How can momondo help me find flights to Queensland?

Once you have performed a search for flights to Queensland, momondo helps you find the right flight by offering useful filters to narrow down your flight selection. Flights can be filtered by multiple factors such as airline, airport and price; but also by other criteria like aircraft type and payment method.
I'm not ready to book a flight to Queensland right now. Can momondo alert me if prices change?

If you are not ready to book a flight to Queensland now, use our insights above to find helpful tips or alternatively set up a price alert; this is where momondo will track prices on flights to Queensland and let you know when they change.
---